Application Incubator
Coming Soon
This page will house the Tools For Foresters Application Incubator. This is an interactive dashboard visually displaying progress on development of our SOPs and Tools for industry so that industry can keep up-to-date on the current status of the tools they are interested in. It offers companies a chance to get involved in the development of SOPs and tools if there is something specific that you wish to progress.
When it is operational, you can expect to see a list of Applications with their progress on this page similar to this diagram below: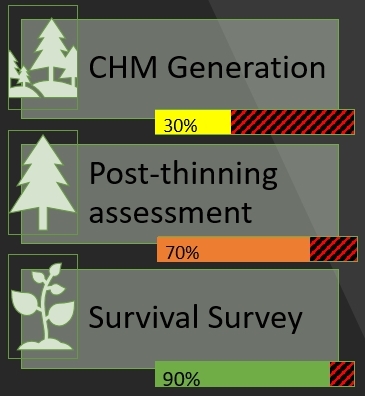 The Incubator Process
The process for the Application Incubator begins with members voting for the applications and tools that you would like to see developed.
Once you are a member, you can send a research request. You simply select Research Requests and send us the application that you would like to see progressed. Alternatively, you can send us ideas for new applications.
Once an idea is voted as a priority by a minimum of 10 companies it will then be brought to the committee to discuss progressing.
Once it is deemed ready for beta testing, it will jump to 60%, we create a SOP which goes out to the TFF Beta Team for beta testing.
If it is not deemed ready, then it will get assigned to the research list at 10%, and Scion will then search for appropriate resources to research and develop these tools.
When the Tools reach 70% they will then be put out for beta testing by the TFF Beta Team.
Once beta testing is complete to a satisfactory level, tools are released as operational and assigned to the TFF SOPs page and put up on our website for download at 90%. From here, they will gain 1% for every company that adopts them commercially, and will be considered 100% operational when a minimum of 10 companies are using them commercially.
A full diagram of the Application Incubator scale can be found below: